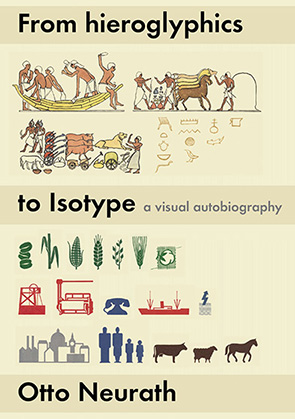 Otto Neurath
From hieroglyphics to Isotype:
a visual autobiography
edited by Matthew Eve & Christopher Burke
ISBN 978-1-9160539-1-5
sewn paperback
240 x 170 mm
224 pages
66 colour and 216 black & white illustrations
This book is a reprint with minor corrections from the first edition (hardback) published by Hyphen Press, London, in 2010.
£25.00 + postage and packing
Otto Neurath wrote From hieroglyphics to Isotype during the last two years of his life: this is the first publication of the full text, carefully edited from the original manuscripts in the Otto & Marie Neurath Isotype Collection at the University of Reading. Calling it a 'visual autobiography', Neurath documents the importance to him of visual material, from his earliest years to his professional activity with the picture language of Isotype. He draws clear connections between the stimulus he received as a boy – from illustrated books, toys, and exhibitions – to the considered work in visual education that occupied him for the last twenty years of his life. This engaging and informal account gives a rich picture of Central-European culture around the turn of the twentieth century, as well as an exposition of the techniques of Isotype. The edition includes the numerous illustrations intended by Neurath to accompany his text, and is completed by an extensive appendix showing examples from the rich variety of graphic material that he collected.
Contents
Foreword (Eric Kindel & Sue Walker)
Introduction (Christopher Burke)
Preface (Matthew Eve)
Otto Neurath: biographical summary (Robin Kinross)
1. Why I am writing a visual autobiography
2. Early impressions
3. How I looked at our library
4. Picture pageantry for the dead and hieroglyphics throughout the centuries
5. The renaissance of hieroglyphics
Appendix: Otto Neurath as collector
Index
Reviews
'… now there is a painstakingly edited, or – better – a reconstituted version of this work. Previously one could read about Neurath's 'visual career' only in short sketches, but now we are presented with a wealth of delightful facets and details.'
Helmut Mayer, Frankfurter Allgemeine Zeitung, 21.12.2010
'It is in this separation from the specifics of Isotype that this book is at its most delightful, leaving the reader to interpret the innocent excitement conveyed through his descriptions, in full knowledge of where the ideas would go.'
Jesse O'Neill, Design Issues, vol. 27, no. 4, 2011